As the days get longer and the mercury drops, in can be easy to slip into a dark and chilly mood yourself. While you don't necessarily have to love winter, you do unfortunately need to plough through it. Follow these 10 steps to survive winter.
Step 1: Invest in Cold Weather Gear
Probably one of the most important things for surviving winter is having the right gear. Invest in a warm, comfortable jacket and pair of waterproof winter boots in order to survive winter. Natural materials work well for this task, such as down-filled jackets, wool sweaters and socks, and fur trim or boots. Don't forget about cold weather accessories such as hats, gloves, and scarves. If you are particularly prone to chills, a cozy pair of thermal underwear can help keep you feeling nice and toasty.
Keep in Mind: One of the best ways to avoid a chill is to stay dry. Once you are wet, the cold can creep in and make you feel very uncomfortable. Keep spare hats, scarves, and mitts on hand, and look for a jacket that can be machine dried for added convenience.

Step 2: Embrace a Winter Activity
While many people tend to head — and stay — indoors during the colder months, finding a winter sport or activity that you enjoy can help make the season more tolerable. Perhaps you like skating or skiing or ice fishing. Whatever winter activity you enjoy doing, make the time to do it at least once a week so that you have something to look forward to about the season.
Keep in Mind: Getting outdoors in the sunlight can also help with mood, making it that much easier to survive winter.
Step 3: Manage Winter Blues
If the dark days and cold weather have you feeling bluer than usual, you could be suffering from seasonal affective disorder, or SAD. If this is the case, schedule an appointment with your doctor to discuss treatment options.
Helpful Tip: Writing daily in a gratitude journal can help to take your mind off the weather and place your focus on all the positive things in your life.
Step 4: Cook Warm, Comforting Foods
When the temperature drops is the perfect time for cooking and eating lots of warm, comforting foods. There are plenty of soups, stews, and casseroles that can easily be made in a slow cooker or pressure cooker, for simple set-and-forget comfort dishes you can enjoy after making the trek home from work through all that ice and snow.
Step 5: Treat Yourself
Sure, money can't buy happiness, but it can buy small little luxuries that make surviving winter that much easier. Something as simple as enjoying a cup of hot cocoa or lighting a few seasonally-scented candles around the home can help brighten your spirits. Plus, it isn't really something you can do during the summer months when the windows are open and a breeze is blowing through your home.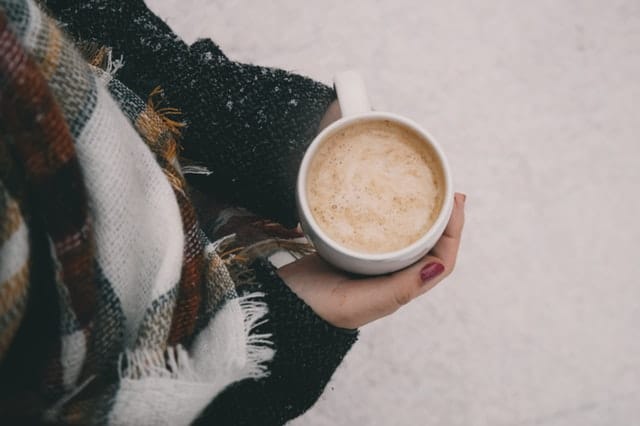 Step 6: Spend Time With Winter Lovers
Just because you don't like winter doesn't mean there aren't people out there who do. Seek them out and spend some time doing an activity you both enjoy. Not only does spending time with friends boost your mood, some of their love for winter might just rub off on you too.
Step 7: Travel Carefully
Whether you are driving, walking, or using some other method of transportation, traveling in winter is not without its pitfalls. There's ice, snow, and plows to contend with. Be sure to give yourself extra time to make it to your destination, and slow down and drive or walk according to the conditions.
Step 8: Stay Hydrated
The cold, dry air that comes with the winter season can wreak havoc on hair and skin, which makes staying hydrated all the more important when the mercury drops. A good moisturizer, lip balm, and humidifier should all be a part of your winter survival kit.
Warning: You can still get a sunburn, even during winter. Be sure to continue using SPF daily to protect your skin, and sunglasses for your eyes on bright days.
Step 9: Take a Vacation
If you really can't stand the cold weather, book yourself a short getaway in the middle of the season. Not only will it give you something to look forward to, but it will revitalize and re-energize you to make it through the rest of winter when you return.
Step 10: Accept It
As the saying goes, if you can't beat 'em, join 'em. Short of moving to a tropical destination, there isn't much you can do to stop winter from coming. Embrace the Danish concept of hygge, or Norwegian koselig, and just accept and learn to love the season.
Not everyone is a cold weather fan, and if you prefer hot sunny days to cold, snowy ones, it can be a real challenge to make it through the season. But, with these 10 simple steps, you can survive – and even thrive in – winter.