Dads can be some of the most difficult people to shop for. There are a lot of potential gift options out there, but many dads buy everything that they want and need themselves. So, finding the one thing that he didn't get for himself, didn't know he needed, and will enjoy can be a monstrous undertaking. However, knowing where and what to look for can make it much easier. If you're looking for a gift for mom, check out our list of the best gifts for moms.
We created a list of the best gifts for dads so that you can find the right one for the dads in your life quickly and easily. These options offer a lot of quality, value, and enjoyment for dads of all ages. To make it even easier, we divided them into categories so you can find the perfect gift for your dad on any budget.
Gifts for Dad Under $20
1. 101 So Bad, They're Good Dad Jokes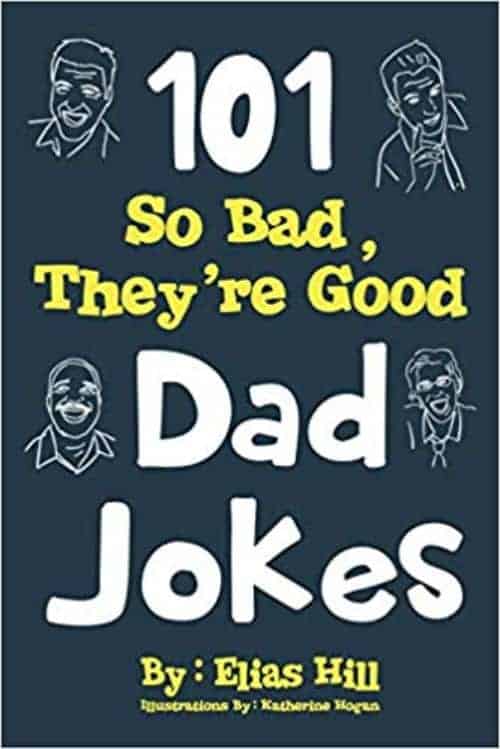 If you've ever wondered where your dad's horrible jokes come from, it comes from books like 101 So Bad, They're Good Dad Jokes. It is available as a Kindle book or a paperback and it is a great source of bad jokes. He will enjoy them for a long time, and so will you since he can't resist using them.
Key Features:
Included more than 100 bad but funny jokes
Great source of enjoyment for the whole family
Cost: $2
2. Made in 1968 All Original Parts T-Shirt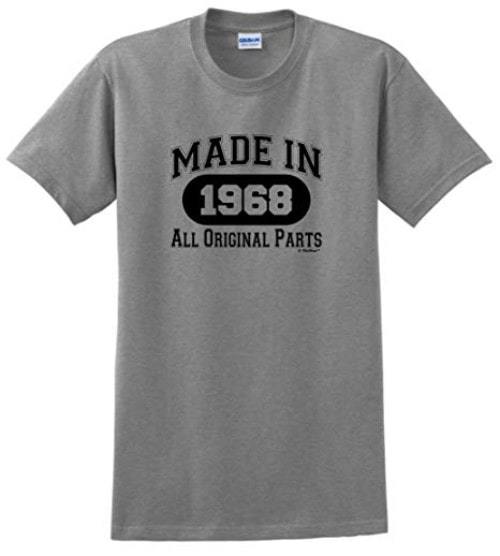 His fiftieth birthday is a big event, and you'll want to help him laugh his way through it with this Made in 1968 All Original Parts T-Shirt. It takes a loving poke at the fact that he is turning fifty, and you can get it in a wide range of colors and sizes for a perfect fit. It is a shirt that he can be proud of until his next birthday.
Key Features:
Nine color options available
100% cotton
Cost: $20
3. Beard Comb and Brush Set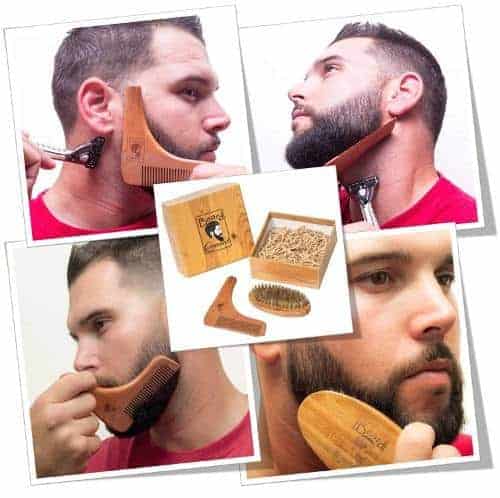 If your dad has a lot of facial hair and works hard on his appearance, then a Beard Comb and Brush Set can be a great gift. It will make his beard care much easier with common tools needed to shape and style facial hair. You'll also save him a lot of time by making it easier to get the beard style that he wants without needing professional help.
Key Features:
Includes a shaping tool with a built-in comb and a brush
Packed in a wooden reusable gift box
Cost: $13
4. Creanoso Dad Guitar Picks Celluloid Medium (12-Pack)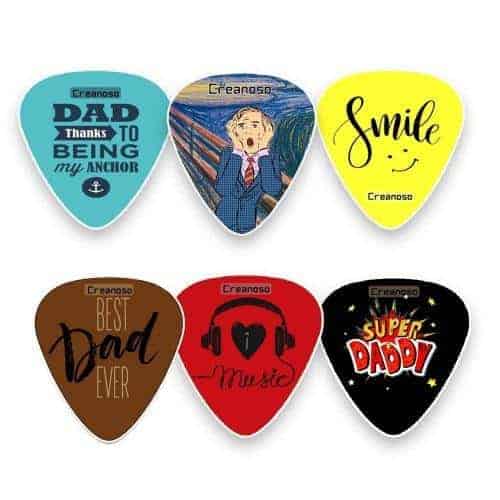 If your dad is into guitar, this set of Creanoso Dad Guitar Picks makes an excellent gift. It includes 12 medium gauge picks with funny dad-related pictures on them. It is a great way to support his music while making him think of you every time he plays.
Key Features:
12 picks included
Medium-gauge 0.71 mm
Cost: $14
5. Dad Thank You Helping Me Build My Life Hammer Keychain & Gift Box Bundle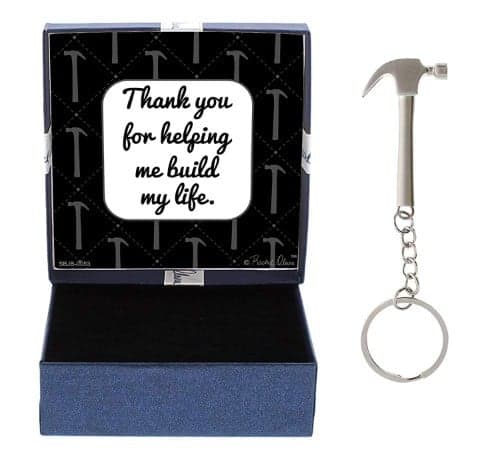 Another great gift idea is this Hammer Keychain. It includes a keychain and gift box with a message inside that says, "Thank you for helping me build my life." The key ring is a heavy-duty design so that it will work for nearly any weight of keys.
Key Features:
Creative gift box included
Heavy-duty key ring
Cost: $13
6. Best Farter Ever Oops Meant Father Gag Gift Coffee Mug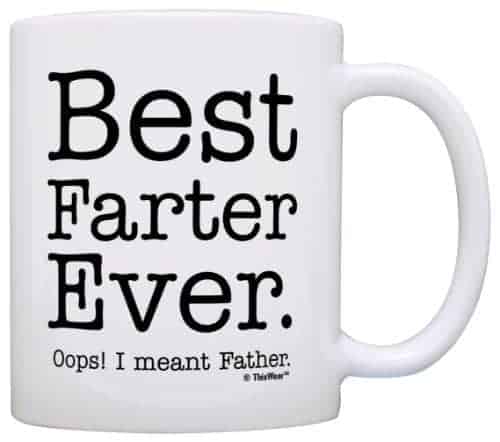 Ever dad needs a funny coffee mug for home and work, and you can make sure your dad has his with this "Best Farter Ever Oops Meant Father" coffee mug. The funny message is etched on the side using sublimation imprinting for a better quality. The mug holds 11 oz. and is ceramic, so it's fully heat resistant.
Key Features:
Cost: $14
7. Guento Airus 3pc Mens Tie Bar Clip for Regular Necktie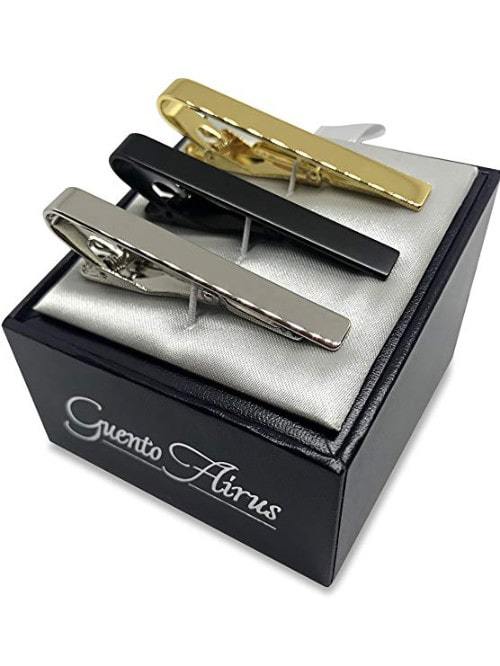 Dads often wear ties to work and a good tie clip can help him look good. This set of tie bar clips includes three bar clips to match any outfit. They have durable springs so that they last a long time and stay firmly in place.
Key Features:
Three finishes included that match anything
High-gloss finish for a better look
Cost: $13
8. Melix Stainless Steel Always Your Little Girl Custom Fishing Hook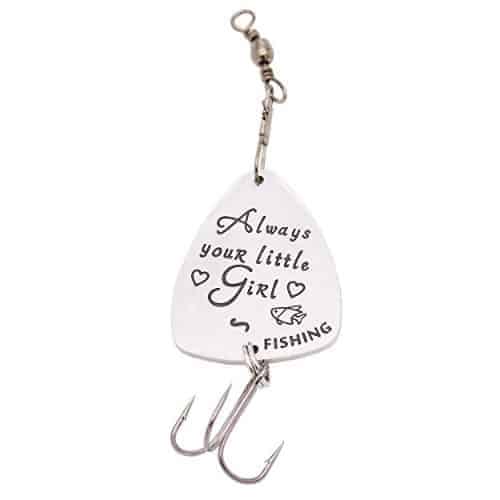 If your dad enjoys fishing, this Always Your Little Girl Custom Fishing Hook is a gift he'll cherish. It is stainless steel and very lightweight making it a great addition to his fishing kit. Even if he doesn't use it, it makes a nice gift to have around with his other fishing tools when he goes out to fish.
Key Features:
Stainless steel
Lightweight
Cost: $14
9. RAK Magnetic Wristband with Strong Magnets for Holding Screws, Nails, Drill Bits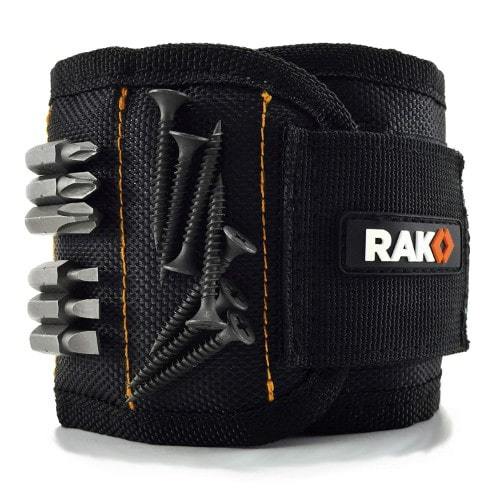 This RAK Magnetic Wristband is a must-have gift if your dad does a lot of work with tools. It has 10 magnets that hold onto nails, screws, and other pieces that are used often in construction work. That way, he won't lose what he needs and won't have to fumble in his pocket to find screws and nails.
Key Features:
10 magnets
One size fits all
Cost: $13
Best Gifts for Dad Under $30
If you are looking for something a bit bigger and you have a bigger budget, you can try one of these mid-range options. These are gifts that he will keep forever, and find multiple ways and places to put them to use.
10. Beer Mug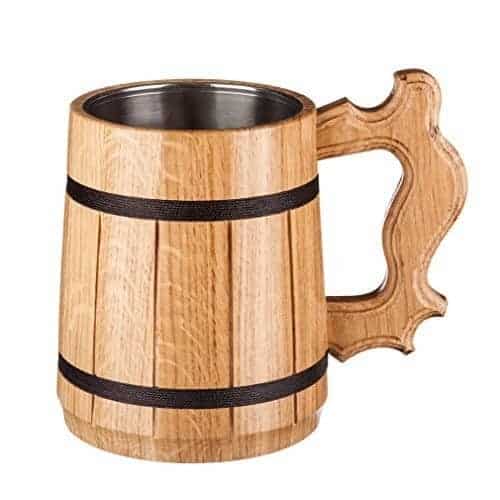 Your dad probably has a beer mug, but not like this one. This one follows the old beer stein model for a more medieval look and feel. You can get it in sets of four and six as well so that he has a whole set for hosting his friends.
Key Features:
Stainless steel interior
Handles hot and cold drinks.
Cost: $25
11. Best Dad Ever – 20 oz Stainless Steel Insulated Double Wall Tumbler with Lid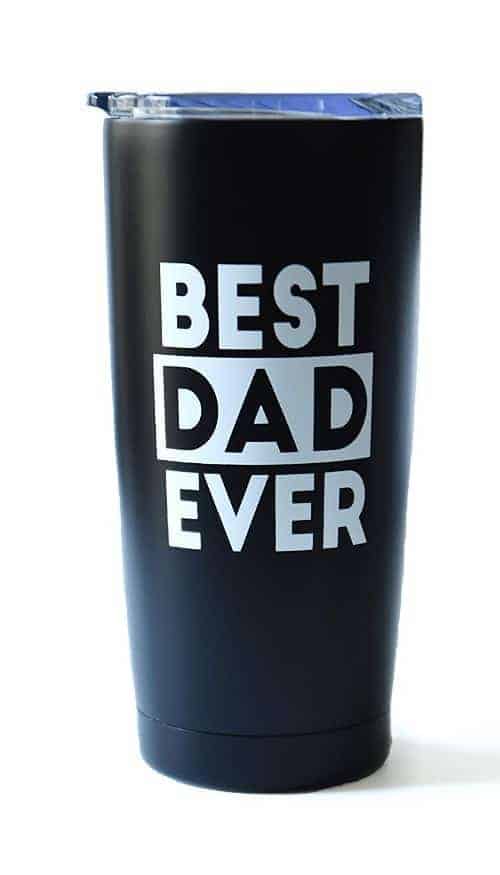 This Best Dad Ever Insulated Tumbler is a useful gift option for most dads. It is made entirely out of stainless steel and holds up to 20 oz. It can handle hot and cold drinks while keeping them at the right temperature for hours.
Key Features:
Cost: $25
12. Bottle Opener Wall Mounted with Magnetic Cap Catcher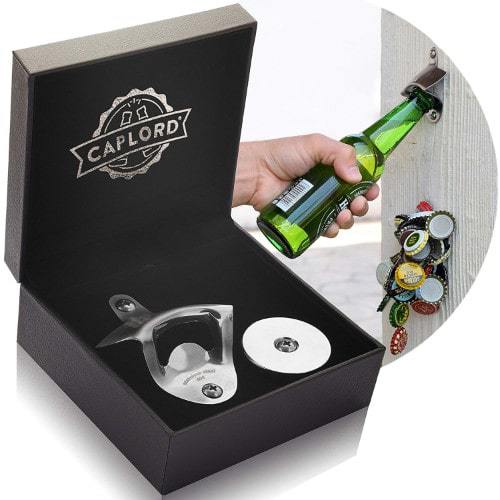 This wall-mounted bottle opener is also a great option for dads that enjoy a bottle of beer to relax or while socializing with friends. It attaches to the wall via screws and makes opening bottles clean and convenient. It includes a strong magnet that catches the bottle caps. That way, they are not all over the floor.
Key Features:
Magnet stops caps from falling on the floor
Screw-on attachment method
Cost: $22
13. Cave Tools Vegetable Grill Basket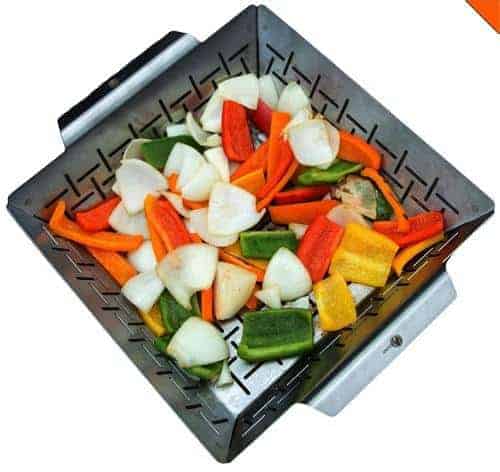 For a dad that likes to grill a lot, this Cave Tools Vegetable Grill Basket is a gift he'll get tons of use out of. It makes grilling a large number of vegetables much easier. It has perpendicular ventilation slots so that it won't lose food while it's cooking, but can drain excess liquids for a better finish.
Key Features:
Small perpendicular vents
Dishwasher safe
Cost: $22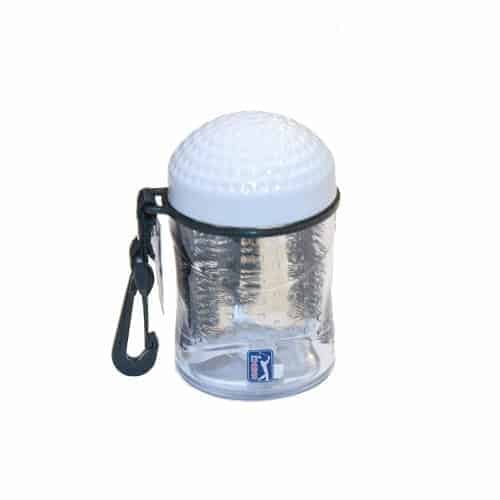 Golfers know that having a dirty golf ball can get annoying, but the Golf Ball Washer Cleaner will solve that frustration for your dad. It comes with a convenient nylon carrying strap that hooks on with a carabiner. It is an easily portable and efficient way to keep his golf balls clean round after round.
Key Features:
Portable
Nylon carrying strap included
Cost: $25
15. Presto 05420 FryDaddy Electric Deep Fryer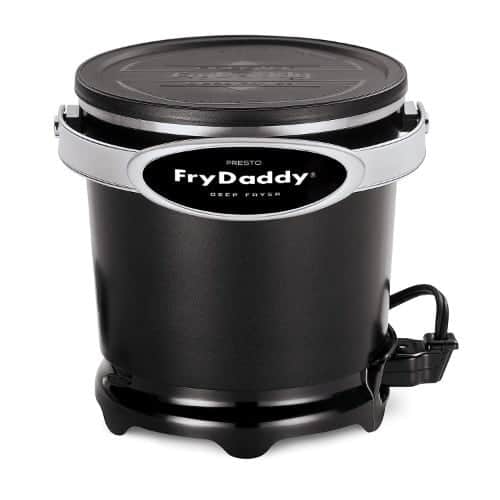 Make it easier for dad to fry his favorite foods with this Presto FryDaddy Electric Deep Fryer. It is efficient in its oil use and comes with a scoop to make retrieving food much easier. It also has a built-in thermostat to help it maintain the right temperature for a more consistent cook each time.
Key Features:
4:4 oil to food ratio
Built to North American Electrical Standards
Cost: $25
16. Tac Force TF876 Personalized Laser Engraved Tactical Pocket Knife
This Tac Force Personalized Tactical Pocket Knife is a useful gift for a dad who needs a knife for outdoor activities or carries one in his pocket so it's handy whenever he needs it. You can choose up to two lines of text to have laser engraved in on the handle. The knife is 4.5-inches long and the blade itself is 3.25-inches long.
Key Features:
Customizable engraved text
Laser engraved for a lasting finish
Cost: $30
17. WeiShang Lot 6 PCS Classic Men's Tie Silk Necktie Woven JACQUARD Neck Ties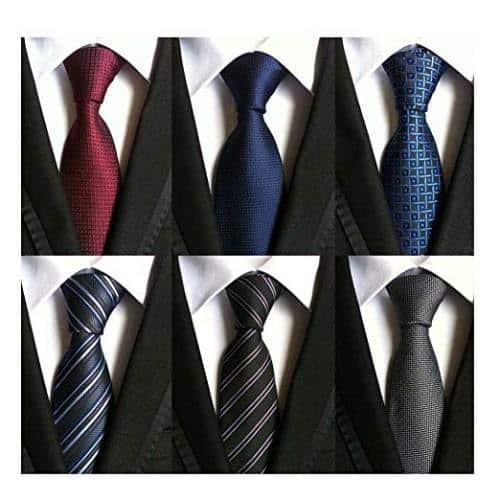 For dads who wear ties to the office, this set of ties is a welcome gift. They are made of 100% silk and are waterproof. The set includes six ties that are just over 57-inches long and come in a variety of color options.
Key Features:
Cost: $23
Best Gifts for Dads Under $60
If you want to get something that goes above and beyond, then check out these high-end options. You can find something for your dad that is unique and special while remaining very useful in his daily life.
18. Alpha Grillers Heavy Duty BBQ Grilling Tools Set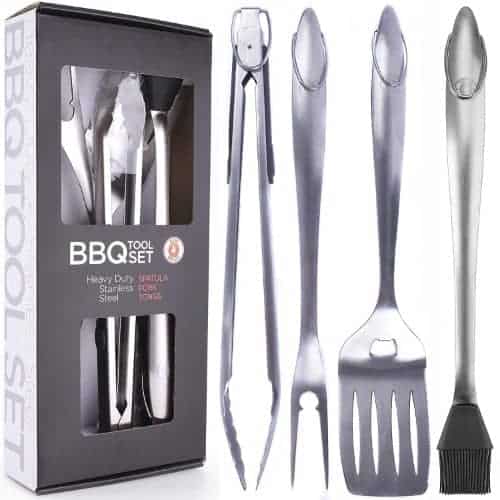 This Alpha Grillers Heavy Duty BBQ Grilling Tools Set includes several heavy-duty grilling utensils for avid grillers. They are made of thick stainless steel pieces and have a brushed finish for a brilliant and durable shine. They're oversized, too, so they're easy to use and can handle nearly any cut that dad wants to cook.
Key Features:
Heavy-duty construction for durability
Brushed stainless steel
Cost: $32
19. DAD Black Titanium Bracelet Engraved Best Dad Ever Adjusting Tool & Gift Box Included by Willis Judd
This titanium bracelet by Willis Judd is a great gift option for dads that wear jewelry. It has an 8.5-inch diameter so that it can fit nearly any wrist. It is made out of pure Titanium, which makes it extremely scratch and dent-resistant.
Key Features:
8.5-inch diameter
Engraved with "Dad" on the front
Engraved with "Best Dad Ever" on the back
Cost: $35
20. Leatherman – Rev Multitool, Stainless Steel
If your dad is constantly fixing things, then he'll love this Leatherman Rev Multitool. It is made of durable stainless still that won't rust or corrode over time. It folds up to be very small so it's easy for dad to stash in his pocket, tool box, or glove box.
Key Features:
Stainless steel
Nine tools included
Cost: $35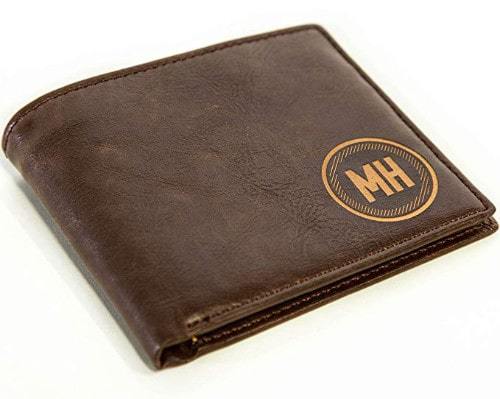 Every man needs a wallet, so why not get dad a personalized one? You can have his initials laser engraved in it so that it is only for him. It is made out of premium leather, so it's durable and won't fade over time.
Key Features:
Laser engraved initials
Eight card slots
Cost: $40
22. Sony XB10 Portable Wireless Speaker with Bluetooth, Red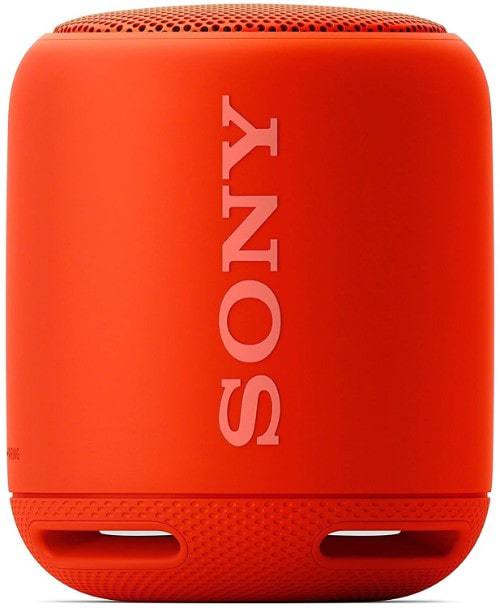 If your dad listens to a lot of music on the go, then get him this Sony Portable Wireless Speaker. It connects to most devices with Bluetooth, making it a great match for his smartphone or other devices. It is available in six vibrant colors that make it easy to keep track of and add a sense of style to any collection.
Key Features:
Available in six different colors
Connects to most devices via Bluetooth
Cost: $58
23. VIKTOR JURGEN Neck Massage Pillow Shiatsu Deep Kneading Shoulder Back and Foot Massager
This neck massage pillow can help your dad relax when he has a stressful day. It gently massages his neck and upper spine to release tension. That way, he can relax after a long day at work and prevent muscle strain or injury.
Key Features:
Can attach to chairs
Comes with a free dust cloth
Cost: $40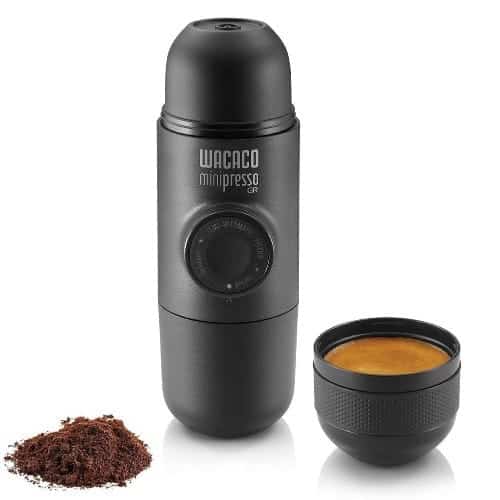 Staying energized on the go is easier with a Wacaco Minipresso GR. It's manually operated and doesn't require cartridges to operate, so dad can make his favorite espresso anywhere. Plus, he can make his own espresso just the way he likes it, at a fraction of the cost of fancy coffee shop drinks.
Key Features:
Makes espresso on the go
Very lightweight
Cost:$50
25. Whiskey Stones – Gift Set – Set of 9 All Natural Whiskey Chilling Stones w/Wooden Gift Box, Velvet Bag, and Tongs – Premium Whiskey Rocks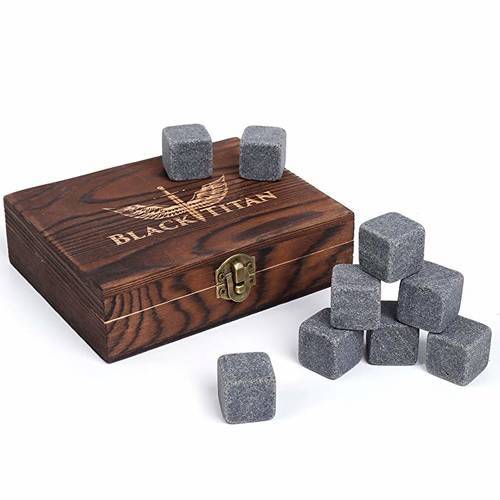 Make it easier for dad to enjoy a drink after a long work day with a set of Whiskey Stones. It includes nine chilling stones that are made out of natural materials. They also come in a case that makes them easy to keep track of for later use.
Key Features:
Nine all-natural chilling stones
Tongs included
Cost: $20