Finding the best gifts for your mom can be a bit of a challenge, but it's a challenge that you want to take on. Your mother is an important part of your life, and celebrating her makes a big difference in how you both feel. Fortunately, we can help you find the best gift for your mother.
We compiled a list of the best gifts for moms of all varieties and tastes. That way, you can quickly find the right gift for her that will be meaningful, thoughtful, and practical. To make it even easier to find the right gift, we divided the list into categories based on price, so you can find the perfect gift for mom on any budget. Looking for a great gift idea for someone new to the joys of motherhood? Check out our list of the best gifts for dads.
Gifts for Mom Under $20
If you are looking for a quick gift for your mom that is affordable and offers value, check out these budget options. Although they are highly affordable, they also provide a lot of lasting value. That makes them perfect gifts for any occasion or just to show your mom that you care.
1. ADVANOVA Women Cashmere Feel Soft Large Shawl Blanket Scarf Evening Wrap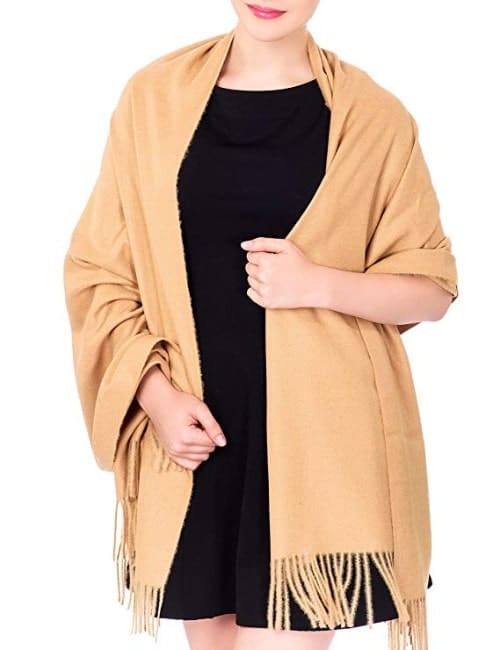 This cashmere-feel wrap is an affordable yet beautiful blanket scarf that can be used throughout the fall and winter. Its oversized design (27 inches by 78 inches) allows for ample room to feel cozy no matter her size. It comes in 14 colors and patterns that work well with any wardrobe.
Key Features:
14 different colors and patterns
Warm enough for all seasons
Cost: $10
2. BANBERRY DESIGNS Mom Butterfly Mother Suncatcher with Pressed Flower Wings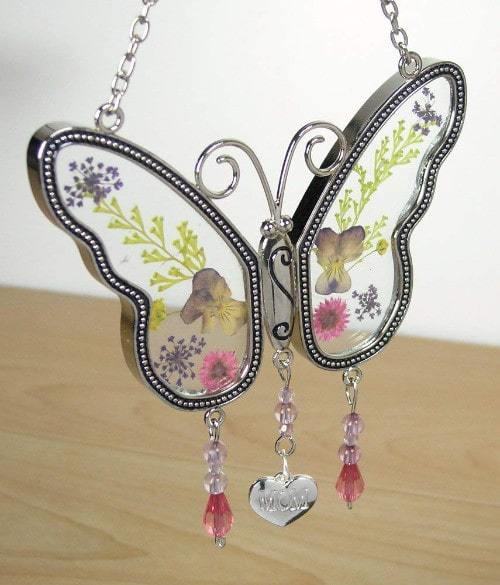 The Butterfly Mother Suncatcher from BANBERRY DESIGNS is a beautiful suncatcher that's perfect for the mom who is hard to shop for. Its butterfly shaped design features real flowers pressed between glass panels to create a one-of-a-kind design that stands out from generic gifts. It arrives with a suction cup and a hook so mom can hang it up immediately.
Key Features:
Real pressed flowers
Small 4.25 inch by 4.25 inch design
Cost: $10
3. Burt's Bees Hand Repair Gift Set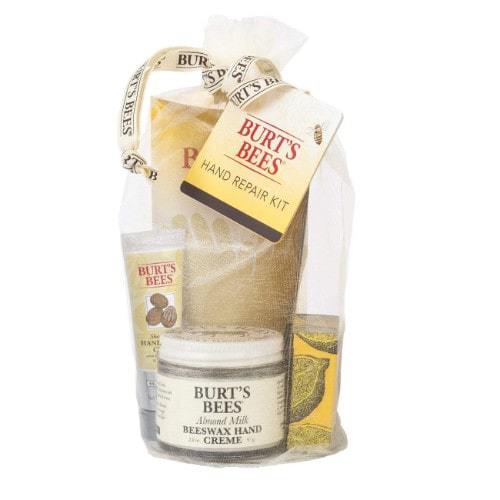 Burt's Bees Hand Repair Gift Set is a thoughtful gift that comes in its own gift bag. The gift set features many of the most popular pampering products from Burt's Bees including Almond Milk Hand Crea, Lemon Butter Cuticle Cream, Shea Butter Hand Repair Cream, and a pair of cotton gloves. It is a nice gift for the holidays in climates where her skin becomes dry in the winter.
Key Features:
Made with natural ingredients
Comes in an organza pouch
Cost: $13
4. DALIX Monogram Tote Bag Personalized Navy Blue Initial A-Z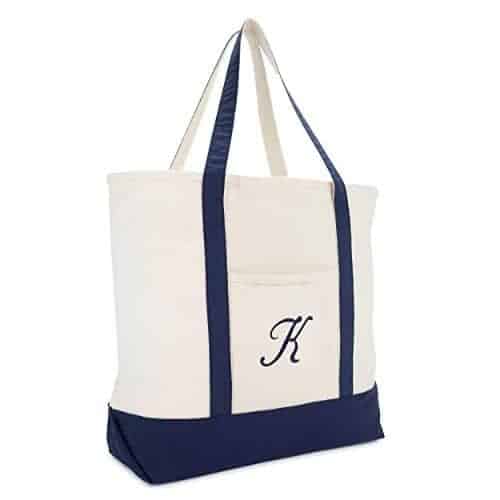 The DALIX Monogram Tote Bag is a canvas and navy blue tote bag that you can have monogrammed with your mom's initial. It is a large tote bag with an oversized handle that is comfortable, even for plus-sized women. It has a zipper closure to keep contents securely inside the bag.
Key Features:
Zippered closure
Made from cotton
Cost: $17
5. HanZá Bath Bombs – Gift Set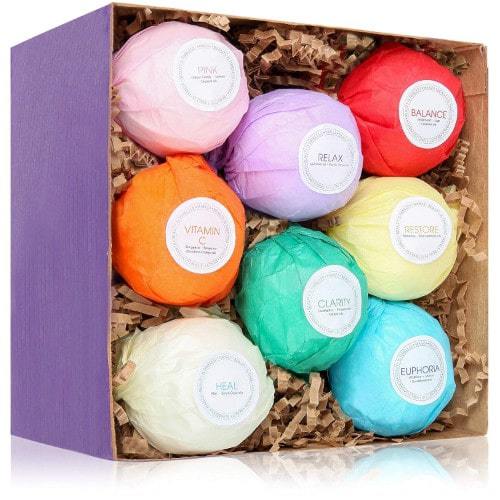 This bath bombs gift set from HanZá is a fun and relaxing gift, with nine handmade bath bombs made from natural and organic ingredients. Each of the 8 bath bombs has a different scent that's more powerful than you'll find in other brands. It comes in its own gift packaging.
Key Features:
Made in the United States
Contains natural ingredients
Cost: $18
6. Knock Knock What I Love About Mom Fill In The Love Journal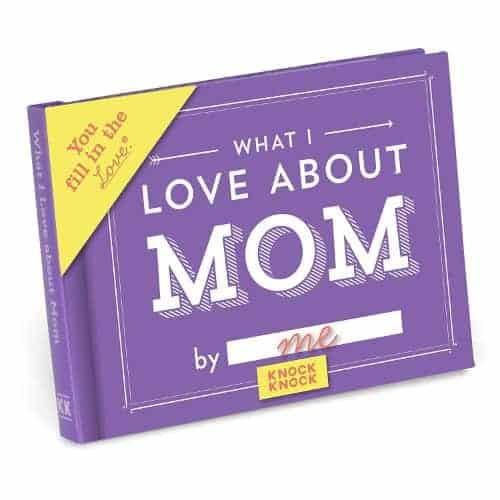 If your mother likes books, then the Knock Knock What I Love About Mom Journal might just be the perfect gift for her. It contains a series of journal entries where you fill in the missing parts like a Mad-lib. That way, you can give her a gift that is both professionally made and personalized by you.
Key Features:
Hardcover
Fill in the story
Cost: $16
7. Recipe Box With 24 Cards & 12 Dividers by Polite Society (White Tin)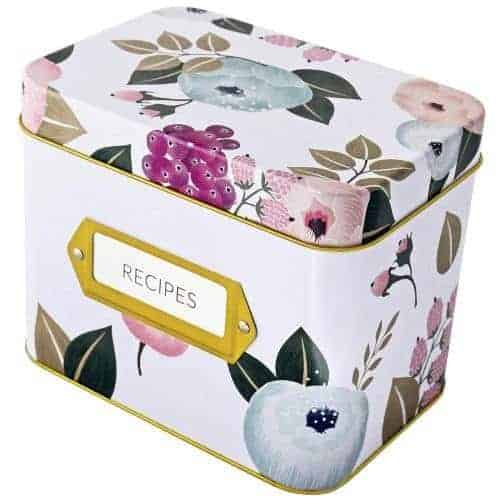 For mothers that like to cook, then you should check out this adorable recipe box from Polite Society. It contains everything that she needs to record all of her best recipes, including 24 recipe cards and 12 dividers, but has plenty of room to continue to expand her collection.
Key Features:
Includes 24 cards and 12 dividers
Multiple style options available
Cost: $15
8.SUN-E 2.75 Inch Ceramic Owl Pattern Succulent Cactus Plant Pots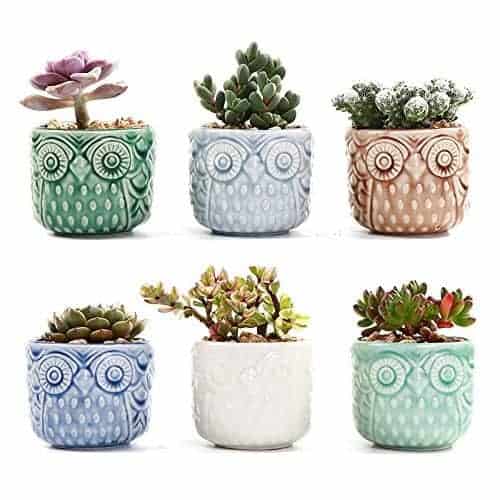 Help your mom bring a little life inside her home or office with these too-cute-for-words ceramic owl pots. Each pot is 2.75 inches, so they're perfect for small plants like succulents or a small cactus – yet they won't take up too much space. Each of the six pots is a different color and is etched with an adorable owl face.
Key Features:
Six colors included
Small to save space
Cost: $16
9. TheraFlow Dual Foot Massager Roller
Standing on your feet all day is difficult. If your mom is on her feet most of the day, she'll love the TheraFlow Dual Foot Massager Roller. It includes two rows of rollers that provide a soothing massage for tired, achy feet. It is entirely manually operated so she won't have to worry about batteries. Plus, the wood finish gives it a nice feel and look.
Wood construction
Manual operation
Cost: $16
10. TONSEE Fashion Lady's Clutch Long Purse Leather Wallet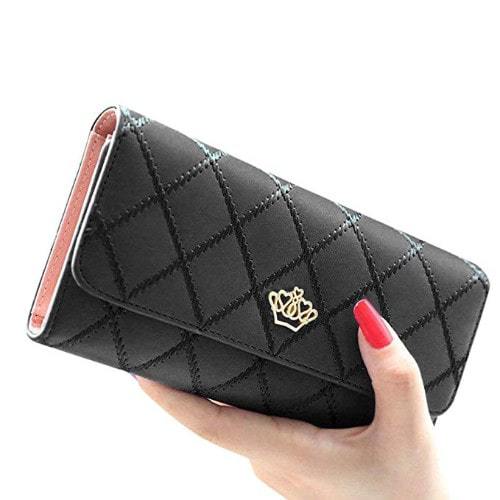 Giving your mom a new wallet is always a good option, and the TONSEE Fashion Lady's Leather Wallet is a great choice. It has a conventional design which goes great with many styles. Made of a plush and durable PU leather, it has a high-quality feel that's sure to last.
PU Leather for feel and durability
Conventional design
Cost: $7
11. Top Shelf Family Memory Jar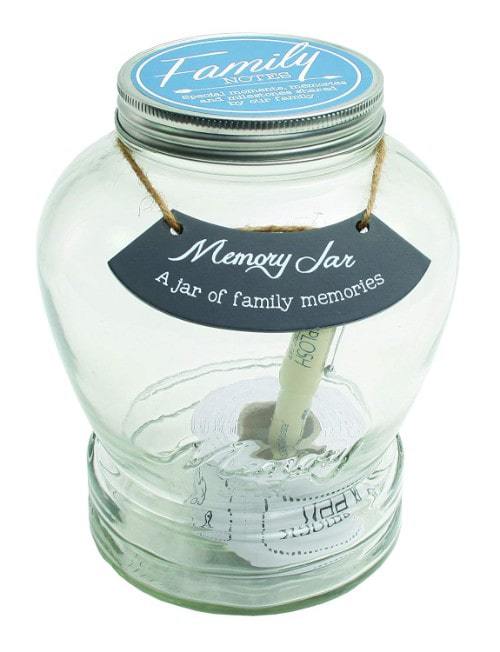 This Top Shelf Family Memory Jar is a heartfelt keepsake that any mom will love. It includes a pen and tickets, so mom and other family members can jot down precious memories anytime. That way, she can always look back on the things that make her happy. Fill it with a few of your favorite family memories before you give it to her to make it a truly personal, touching gift she'll cherish.
Includes a pen and tickets
A fun way to collect memories
Cost: $18
Gifts for Mom Under $30
These gift options are a great way to give your mom a gift with more value. You'll find gifts that are more customizable, longer lasting, and more complex. If you have a slightly higher budget, they make good choices for giving your mom something truly special.
12. Alex and Ani Because I Love You, Mom II Expandable Rafaelian Bracelet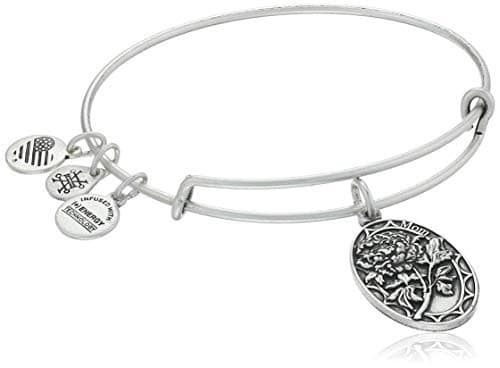 Charm bracelets are a creative way to give your mom a gift that she can enjoy for a lifetime. This Alex and Ani Because I Love You, Mom II Expandable Rafaelian Bracelet has an expandable design so that it easily slides onto any wrist. Plus, you can add more charms to it later.
Silver finish
Expandable design
Cost: $28
13. Emile Henry Made In France HR Modern Classics Pie Dish, 9″, Red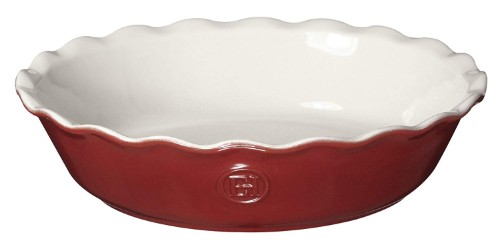 This Emile Henry Modern Classics Pie Dish is a great option for any mom who loves to cook. It is made out of Burgundy Clay in France the same way it was made in 1850. This gives it better heat management properties, which makes keeping foods warm easier.
Made the same way since 1850
Better heat management
Cost: $30
14. Funny Mom Gift, Stemless Wine and Coffee Mug Set by Wear Tough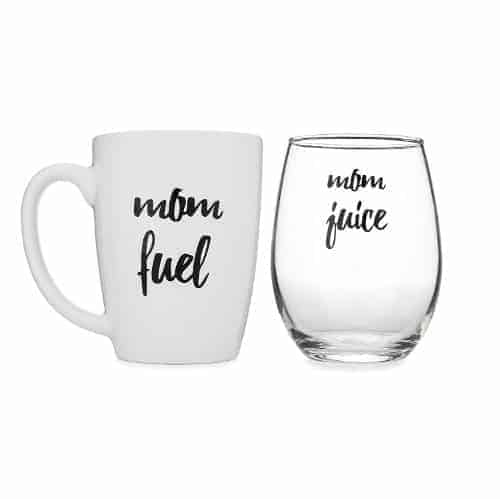 To bring a little humor to her life, give your mom this wine and coffee mug set by Wear Tough. It includes a mug and a stemless wine glass that she can use for those must-have mom beverages: coffee and wine. The wine glass and mug are printed on both sides so that they work for left and right-handed drinkers.
Printed for left and right-handed drinkers
Two glasses included for different uses
Cost: $28
15. Pavilion Gift Company 74068 Bloom Mother Ceramic Tea for One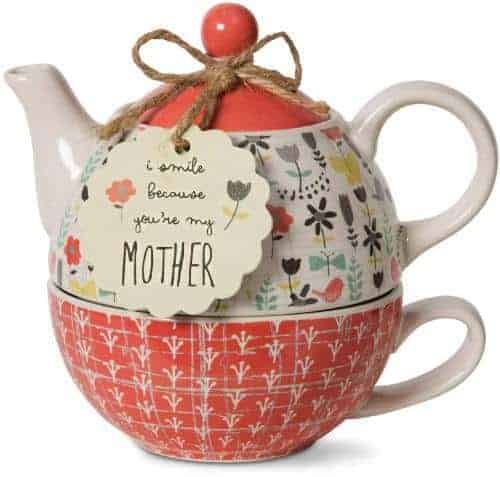 Does your mom prefer tea to coffee? Maybe she just enjoys the occasional cup of tea. In either case, the Bloom Mother Ceramic Tea for One by Pavilion Gift Company makes a gift she's sure to use. A 15 oz. ceramic teapot that makes enough tea for one or two people, it has a ceramic design that's ideal for handling heat so her tea will stay warmer for longer.
Cost: $23
16. Perfect Present For Mothers, Ideal Mothers Kitchen Linen Set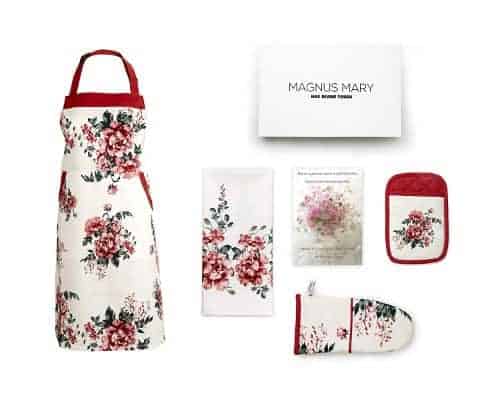 Cooking can be messy, so the Ideal Mothers Kitchen Linen Set makes a great gift for the mom who's always in the kitchen. She gets a matching set of kitchen linens including an apron, oven mitt, pot holder, and kitchen towel. It also comes with a greeting card.
Matching linens
100% cotton
Cost: $30
17. Vremi 9 Piece Garden Tools Set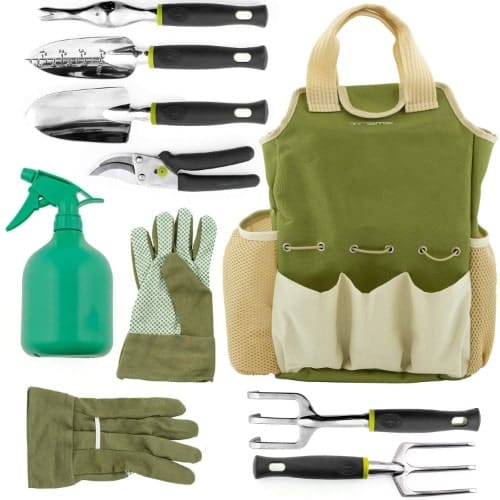 The Vremi Garden Tools Set makes gardening a lot more fun. It includes a complete set of safety gear and handy tools – 9 pieces in all – so that she can get right to work. The tools have a comfort handle to ease hand strain so she can garden as long as she likes.
Complete gardening set
Comfort grip handles
Cost: $30
18. Wooden Yarn Bowl Holder and Yarn Cutter Bundle 6"x3" with Gift Pouch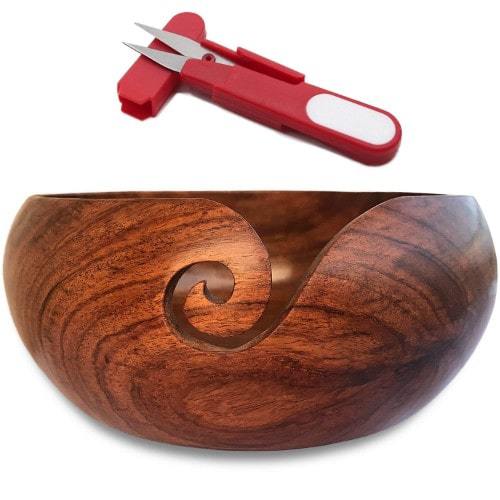 If your mom likes to knit or crochet, you probably know that preparing the yarn is a big part of the process. This wooden yarn bowl holder comes with a yarn cutter, making it easy for mom to keep her yarn organized and more manageable. It also comes with a carrying pouch so that she can keep everything together when she's not busy making beautiful creations.
Safety pouch included
High-quality wooden bowl
Cost: $28
Gifts for Mom Under $50
If you want to find a present that is truly unique, you can try these high-end options. They offer luxury and quality focused designs that she may not be willing to get for herself. You can give her the things that she would want as a great gift for herself.
19. Home Euphoria 100% Natural Bamboo Cheese Board and Cutlery Set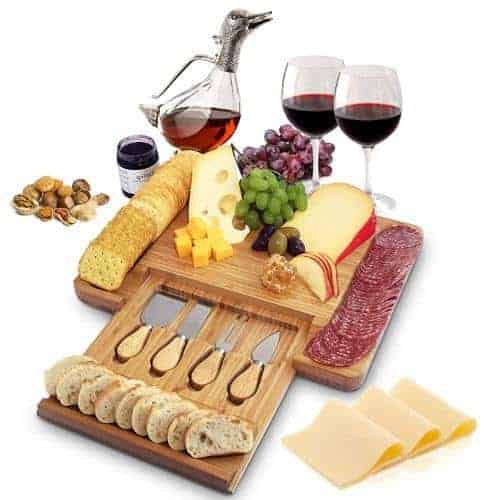 The Home Euphoria Natural Bamboo Cheese Board and Cutlery Set makes an excellent gift for any cheese lover. It is made from 100% bamboo with a hidden slide-out drawer that includes all of the cheese tools mom needs for a great looking cheese and charcuterie plate.
Made from eco-friendly bamboo
Features a hidden drawer
Cost: $40
20. Chef's Vision Kitchen Knife Set in Gift Box by Chef's Vision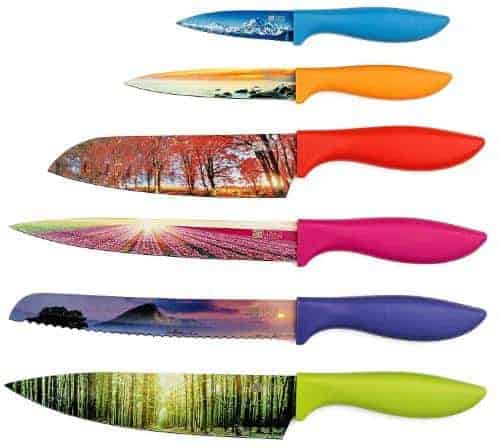 This kitchen knife set from Chef's Vision is a stunning set that makes a unique gift for any mom. The knives have landscape pictures printed into the blades, and it's a full set of knives. It's an artsy gift that's just as quirky as it is useful.
6 piece set
Beautifully finished and unique knife set
Cost: $50
21. Large French Press Coffee Maker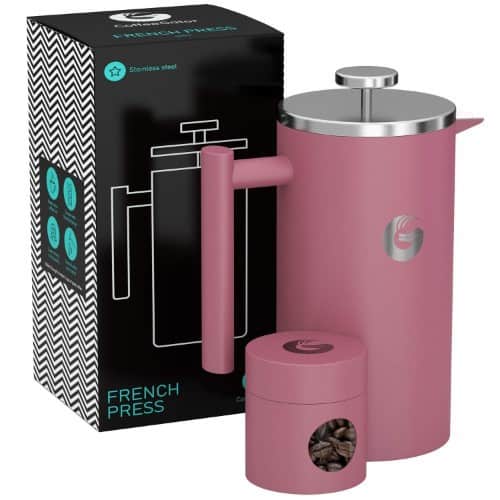 One of the best ways to start the morning is with a great homemade cup of coffee, and this French Press Coffee Maker makes it easier for mom to get the exact cup of coffee she prefers. It is a professional-grade press and it comes with its own bean container so that mom can keep everything nearby and ready for the morning.
Bean container included
Professional-grade press
Cost: $43
22. Love Jewelry Personalized Infinity Mothers Ring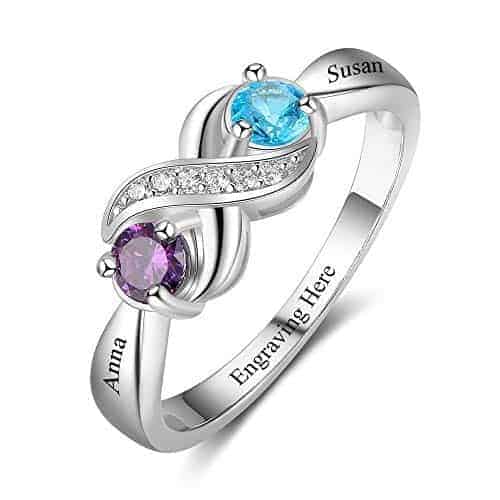 If you want to give mom a personalized ring, the Love Jewelry Personalized Infinity Mothers Ring is an excellent choice. You can have it customized with engraving on the inside and outside of the band. Plus, you can have the stones changed to her family members' birthstones or any combination that she'd like.
Available in sizes six to nine
Available in silver, gold, and rose gold
Cost: $40
23. NTBAY 100% Cotton Cable Knit Throw Blanket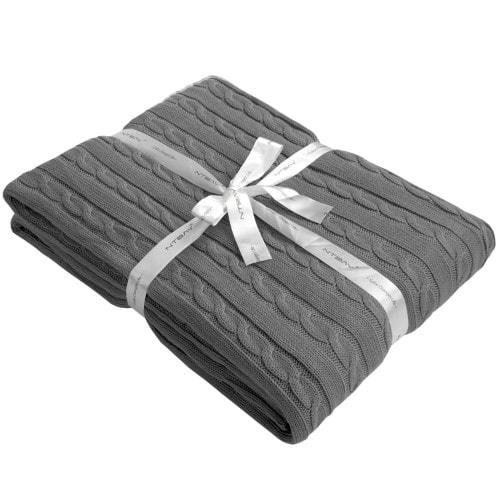 Your mom can cuddle up and stay cozy with this 100% cotton throw blanket. It's machine washable to save her the hassle of hand-washing or dry cleaning. Plus, it comes in a wide variety of styles and colors to match what she likes.
51-inches by 67-inches
24 color and style options available
Cost: $36
24. QIANSE I Love You Mom Necklace Engraved Pendant Gold Plated Necklace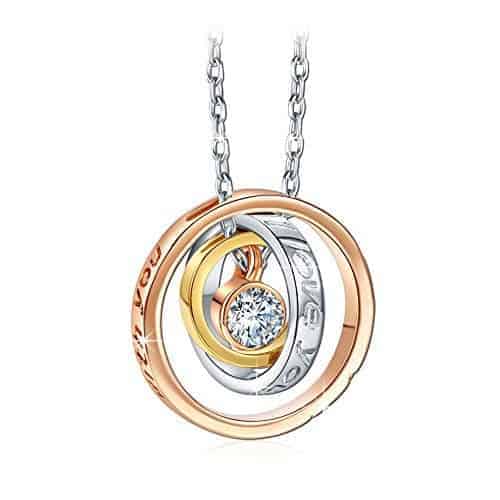 For a mom who likes unique jewelry, check out this I Love You Mom pendant necklace. It features three integrated circles made of gold, rose gold, and silver with a diamond hanging in the center. When laid flat, the three rings collapse into each other forming a disk with the diamond prominently displayed.
Gold, silver, rose gold, and diamond included
Engraved love messages
Cost: $35
25. Teabloom Eternal Love Tea Gift Set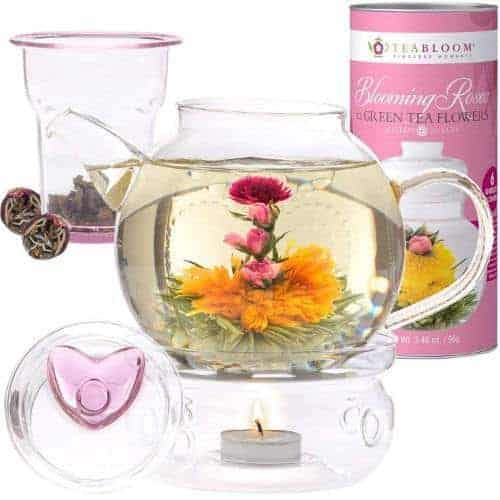 If she likes tea, then this Teabloom Eternal Love Tea Gift Set is a good gift option. It includes everything that she needs including a Borosilicate glass teapot, which has a unique look. The pot is also 36 oz., which is big enough to serve several people.
Includes a complete set
Glass teapot
Cost: $50