Remember when children played outside all day, and mothers didn't fret about their safety? People strolled the streets at night, unconcerned that their home might be in jeopardy. This wasn't a TV show. It was life, a few generations ago. Today, with our every move digitally tracked and our location visible to anyone with an internet connection, security has become a major concern.
It's even truer in the workplace, where disgruntled former employees routinely show up and wreak havoc in ways that were seldom a threat in earlier times. Clearly, a higher level of security is warranted in the digital age. We reviewed dozens of outdoor security cameras to identify the best of the best. We looked at connectivity and surveillance area, as well as method of notifications, Amazon reviews, and, of course, price. When protection is paramount, these are the outdoor security cameras we recommend.
With nearly 16,000 Amazon reviews averaging 4 stars, the Arlo by NETGEAR Smart Security System is clearly a well-loved choice for home protection. Touted as the first 100 percent wire-free HD smart home security system, the Arlo camera is easy to set up, includes free cloud storage, and can be expanded to support up to 5 cameras. Best of all, it works like a charm: both customers and police have reported the Arlo helped them identify and arrest perpetrators — right at the crime scene!
The 5 Top-Rated Security Cameras
*Ratings are from Amazon at the time of publication and can change
Our Top Pick: 

Arlo by NETGEAR Security System
Once you install the Arlo by NETGEAR Smart Security System, with its patented 100 percent wire-free design that affords you a 110-degree view from anywhere, suspicious characters will no longer have the advantage in the dark.
Arlo's night vision, motion-activated cameras record motion and send you real time alerts or app notification (your choice), keeping you on top of what's happening at home when you're away.
With sharp, live remote video streaming that can be upgraded for even greater surveillance and storage, you can rest assured your family is secure, as Arlo discreetly keeps watch.
Arlo by NETGEAR Smart Security System Key Features: 
100% wire-free, wireless, indoor/outdoor home security
Exceptional video detail with HD cameras and night vision.
No computer required; batteries included.
Free apps enable remote monitoring from wherever you are.
Can be paired with Alexa for voice control.
Our Runner Up: 
Nest Security Camera
In out hyper-busy age, nesting — spending time cocooned at home — has become popular. Nest, the company that created "nested" cooling and heating controls that can be remotely adjusted from anywhere in the world, now adds the Nest Security Camera to its home monitoring mix.
The Nest Security Camera works seamlessly with other NEST devices to provide smart, safe security. While it may be a little pricier than other models, its adaptable design ensures you'll stay informed, no matter what's happening — even if you're not at home.
Nest Security Camera Key Features:
24/7 live streaming in crisp HD (and recording, with a Nest Aware subscription). It's all there for you to review at any time.
Audio and video. Listen to what's going on out there, receive alerts on suspicious motion — or watch for the kids to get home from school.
Plugs into power; never worry about dead batteries.
Photo alerts to your phone when something looks or sounds suspicious.
Cloud storage enables you to review your history any time.
Best Budget Pick:

SV3C HD Wireless Security Camera 
When it comes to outdoor security you might think it's worth any cost to stay safe. However, you can get excellent surveillance for a very reasonable price, as this outdoor security camera demonstrates.
As numerous reviewers attest, the SV3C HD Wireless Security Camera takes good quality pictures even from 60 feet away, and is easy and quick to install, and offers lifetime technical support. Reviewers rave about the friendly customer service!
SV3C HD Wireless Security Camera Key Features:
Easy installation for iOS or Android phones, and supports Windows PC (not Macs)
Exceptional night vision, with 36 pcs infrared LED lights that can monitor your property indoors and out, whether it's night or day
Smart motion detection: alerts or snapshots sent to your phone when unusual motion is detected
ONVIF Compatible: your SV3C will interface smoothly with equipment from other manufacturers, allowing you to build out a custom surveillance system that meets your unique needs
Best Wireless Outdoor Security Pick: SAFEVANT FULL-HD 8CH 960P Wireless Security Camera System
Once upon a time there was 8-channel stereo. That might have provided incredible sound to scare intruders away, but today there's a better, more reliable system: the SAFEVANT FULL-HD 8CH 960P Wireless Security Camera System. Amazon reviewers report it's very easy to get up and running, customer service is exceptional, and it's worth the price tag.
No one will want to mess with your property once they see all these eyes on their every move, providing you with crystal-clear images up to 65 feet away. Continuous, high-resolution recording protects your outdoor area 24/7.
SAFEVANT FULL-HD 8CH 960P Wireless Security Camera System Key Features:
Auto pair, true plug and play: Just plug the Wireless Security Camera into power outlets with the power supply provided; no need for cables.
Remote view/playback on any mobile device and laptop with CMS software.
Customize motion detection parameters to your needs:
set a perimeter zone, specify which areas of the camera's motion grid are active, and even set a schedule for when the alert system is armed or disarmed. You can also prevent false alarms such as plants moving in a breeze.
60-day money-back guarantee.
Lifetime tech support.
Best Outdoor Security Camera for Home Pick: 
Blink XT Home Security Camera System for Your Smartphone
Peace of mind shouldn't cost a fortune, says the Amazon page for Blink XT Home Security Camera System, and this smartphone surveillance solution has it all: battery-powered coverage you can place anywhere to visually verify what's going on at home when you're elsewhere.
You can easily expand the system if you move to a larger place, and cloud storage is part of the package, absolutely free. No wonder a number of users enthusiastically give the stylish, completely wireless HD video technology a 5- star rating.
Blink XT Home Security Camera System for Your Smartphone Key Features:
Voice activated: Blink is fully integrated with Amazon Echo (Alexa), Echo Dot and Amazon Tap. If you own any of these devices, you can control Blink XT with voice alone.
Long-life batteries. The 2 AA lithium batteries included with your purchase are designed to last two years, thanks to Blink's proprietary chip technology.
Home monitoring from wherever you are, on your phone: live steam HD video and audio, with push alerts, from any of your Blink cameras (up to ten per system).
Free data storage: no contract or subscription needed.
Who Should Buy an Outdoor Security Camera?
While today's connected world is a boon for communication, it also means personal and business safety is at a premium. With information about our lives and livelihood easily accessible, this transparency can tempt the unscrupulous to invade your privacy.
An outdoor security camera is therefore a necessity for any business facility or homeowner who wants an extra measure of safety and confidence protecting their loved ones and business. Unless your business is 100 percent virtual (in which case you'll want the best firewalls and other cyber protection), an outdoor security system is a must.
We've provided you with our top 25 choices from the wide range of systems available so you can select the best fit for your needs, based on such features as wireless vs. wired, scope of motion detection, customizable options, data storage, ease of installation, and price. In the third millennium, every home and business can benefit from having an outdoor security camera.
Important Features to Consider
An outdoor security camera should have several important features. Here's what to consider when selecting an outdoor security camera for your home or business:
Night vision. Virtually all of the outdoor security cameras we reviewed touted night vision as a key feature. This makes sense, since most intruders wait until dark to gain entry. A camera equipped with adjustable night vision sensitivity means someone attempting to break in is going to show up, clear as day. Busted!
Motion detection. Most cameras will send text, audio, or video alerts when they detect motion. This saves on storage, as well as on the video you'll need to scroll through. If the system can be customized to recognize and omit false alarms, such as trees swaying on a windy night, that's even better.
Wireless versus wired. While high-resolution video might reduce your WiFi broadcast speed, many users find wireless cameras preferable to cables, which can be cumbersome — or cut. Long-life batteries are the optimal way to go with a wireless set-up.
Extended viewing range. The best cameras we looked at could transmit clear images from at least 60-65 feet away. Some ranges extend to 100 feet or more.
Storage. Does the system provide free cloud storage, or does it offer a reasonably priced recording plan? You want to be able to review, save, and share footage at any time.
Weatherproof. Finally, while just about every outdoor security camera claims to be waterproof, in reality weatherproof levels vary considerably. Look for a system that is rated to be fully waterproof in a hard rain, with operating temperatures from 14º F to 122º F.
Frequently Asked Questions
Do wireless security cameras need batteries? 
The definition of a wireless camera can be confusing. The term "wireless" refers to the audio/video transmission; many outdoors security cameras still require a cable for power. Newer models are often battery-powered, making them completely wireless. A work-around: you may be able to recharge your camera batteries if you have solar panels installed at your home or facility.
Do you need a hard drive for security cameras? 
While a security camera does need some form of storage in order to record footage and support playback, a hard drive is not essential. You can upload to the cloud, and in many cases, cloud storage will be bundled with your purchase, or offered as an add-on for a low fee.
If you want to skip the hard drive, your best bet is a regular IP camera rather than a CCTV system. An IP camera can upload recorded video directly to the cloud.
How do CCTV surveillance systems work? 
CCTV stands for closed circuit TV. CCTV surveillance systems use video cameras to transmit images to one or more monitors, or to a video recorder (DVR). Ubiquitous in retail environments today, CCTV surveillance captures both black and white and color images and sends them to the DVR, where they are stored for playback.
Do you need Internet for wireless security cameras? 
With a little ingenuity, it ispossible to use wireless security cameras without Internet access. If you purchase a surveillance system that includes a WiFi NVR (Network Video Recorder), the cameras and NVR will be able to "talk" to each other without using the Internet. Simply connect the NVR to an HD TV and you will be able to monitor the video feed.
Other Outdoor Security Cameras We Reviewed
We looked at 20 other outdoor security cameras. Even though they didn't make our 5 best outdoor security cameras list, they're the best of the rest and each is still a great option for your home or business. The information you'll need to compare each one is included with the listing.
Single Outdoor Cameras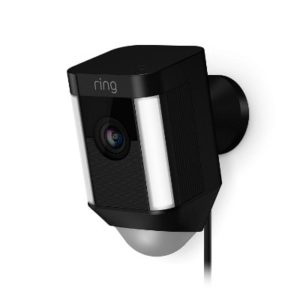 Sound the 110-decibel siren on suspicious activity! This plug-and-play HD security camera has built-in spotlights; the ability to see, hear and talk to people on your property, and a siren alarm. It's even Alexa compatible. Easy set-up means your security just improved dramatically.
Key Features:
Compatible with iOS and Android, Mac and Windows
Motion detection triggers spotlights and video recording
2-way talk from phone, tablet, computer
Cost: $200
Dericam Outdoor WiFi IP Security Camera
The Dericam offers 360-degree pan/tilt visibility no matter where it's mounted: a full range of vision and protection. A pre-installed 16GB memory card supports recording and playback. Simple setup via iOS or Android and an affordable price make this single outdoor security camera an excellent choice.
Key Features:
Superior night vision: 22 powerful IR LEDs allow you to see clearly up to 65 feet away
Clear, sharp, HD quality Optina AR0130 image sensor
355° horizontal pan and 90° vertical tilt rotation range means you won't miss a thing!
Cost: $100
R-Tech RVD70B 1000TVL Outdoor Dome Security Camera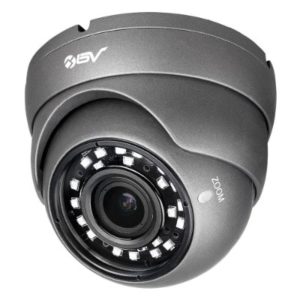 This a great deal for an analog camera: engineered for exceptional compatibility, the standard analog chipset enables the camera to work on most BNC-cable systems, old and new. IR LED lighting and 1000 TVL resolution give you optimal picture quality in any given lighting.
Heavy-duty construction withstands extreme weather conditions. Lifetime tech support is included. And given the features, it's one of the most economical security camera we've come across.
Key Features:
140 feet of infrared light for superior night vision with longer LED lifespan
Day and night security
Varifocal lens that adapts to both residential and commercial environments.
Cost: $23
SV3C IP POE Camera Security Outdoor (Wired)
Quality and cost are the watchwords of this waterproof super HD security camera, which uses Ethernet for both power and data transmission, making it more stable than WiFi. Solidly constructed to withstand not just bad weather but temperature extremes from -4º F to 140º F.
Key Features:
Smart motion detection
Crisp image quality
Cloud storage
24/7 customer service and lifetime tech support
Cost: $60
Touted for being both weatherproof and vandal-proof, the Oco Pro Dome provides crisp, full HD images directly to the cloud. Smart motion detection avoids false notifications. Best of all, Oco integrates well with other enterprise video surveillance solutions and business SaaS, from fore alarm systems to POS.
Key Features:
Easy to install solutions for small business owners, with multi-user access via iOS, Android, Mac & PC.
No NVR/DVR needed. Store free in the cloud for 90 days, and/or on Micro SD card.
Enterprise level security includes open API, unlimited cameras per account, extended storage plans, etc.
Smart self-learning motion detection system learns every hour you use it.
Cost: $100
TMEZON HD CCTV Security Camera 960H
A professional infrared LED security camera for less than the price of dinner out? You bet. And you can enjoy that meal in complete confidence, knowing the TMEZON HD 800TVL is keeping constant watch over your property, with its indoor/outdoor wide-angle lens.
Key Features:
Powerful 80-foot night vision; high color resolution
Easily connects to TV or DVR or security monitor
Weatherproof, with 2-year warranty
Lifetime tech support
Cost: $13
Ouvis C1 Pro HD Waterproof WIFI Outdoor Wireless Security Camera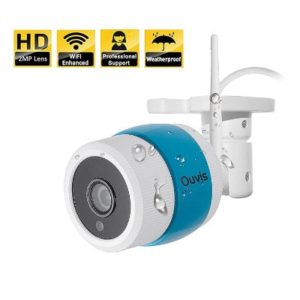 The unassuming little Ouvis has it all: HD WiFi enhanced day and night vision, storage for up to 145-hour continuous video, motion detection, and remote viewing so you can check in any time, from anywhere, with the free Ouvis app. And it's amazingly affordable.
Key Features:
Plug and play set-up and remote viewing
Motion detection with smart alerts to your phone
Compatible with iOS and Android mobile devices, Windows PC and web browsers
Free advanced mobile app for live streaming, video and image sharing, turning night vision on/off, and more.
Cost: $28
Multi-Camera Security Surveillance Systems
Zmodo Wireless Security Camera System (4 pack)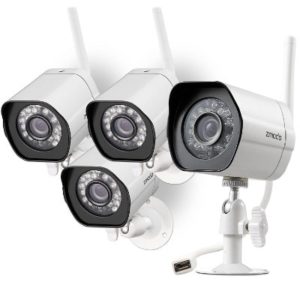 Zmodo Wireless Security Camera System (4 pack) has everything you could ask for in a home or business outdoor security camera. Equipped with infrared lights and IR cut, it serves asyour eyes outside, with adjustable night vision sensitivity. Comes with a 3-year limited warranty, a free month of cloud storage, and lifetime tech support.
Key Features:
Customizable motion detection allows you to monitor the exact areas you want, reducing false alerts
Smarter night vision with auto IR LED keeps your home or business in clear view day and night, up to 65 feet
Add door and window sensors for enhanced protection
Multiple viewing options: iOS, Android, and PC websites.
Cost: $100
EZVIZ FULL HD 1080p Outdoor Surveillance System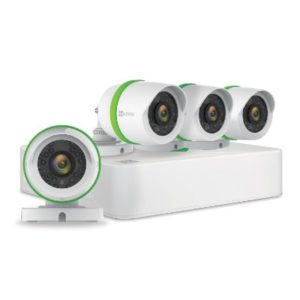 The EZVIZ FULL HD 1080p Outdoor Surveillance System is Amazon's Choice for an outdoor camera, and we can see why: it offers complete home or business surveillance on four channels from anywhere, any time. With lifetime tech support, one button upgrades and a free one-year warranty, it's an excellent system for the price.
Key Features:
Smart home enabled with voice control
Customizable motion detection with phone alerts
High definition, remote access, wide angle view
Night vision up to 65 feet of total darkness
4 Channel DVR recording to built-in security-grade 1TB hard drive
Cost: $180
FREDI Security Camera System 8-Channel HD-TVI 1080P Lite Video Security System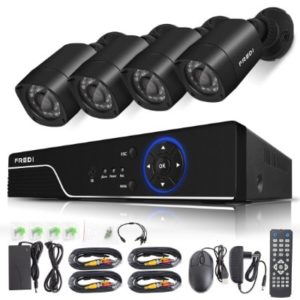 The FREDI Security Camera System 8-Channel HD-TVI 1080P Lite Video Security System provides high quality, multi-channel "home security at a fantastic price", enthuses one Amazon reviewer. Quick and easy set-up by scanning QR Code from your smartphone or tablet.
Key Features:
Smart motion detection with email alerts
Complete day and night monitoring using IR LEDs, recoding motion up to 98 feet away
Crisp, high resolution images in color for day, auto switched to black & white at night
Indoor/outdoor use
Cost: $87
Funlux Wireless 720P HD Outdoor Security Camera
The Funlux 2-pack is a complete indoor/outdoor security system for your home or business at an unbeatable price. Installation is a snap with advanced Zink Technology, and if you do have any questions, lifetime US-based tech support with live chat is there to help. Two-year warranty.
Key Features:
Smart, customizable motion detection with mobile push alerts
Clear night vision up to 65 feet away with auto IR lights
Crisp HD 720p live video can be viewed on your smartphone, tablet or PC any time, anywhere
Cost: $60
GW Security 8 Channel 5MP NVR 1920P IP Camera Network POE Video Security System
The GW Security 8 Channel 5MP NVR 1920P IP Camera Network POE Video Security System is expensive, no question. But the Amazon reviewers, almost all of whom give it 5 stars, say the quality and performance merit the price. One purchaser, who researched hundreds of products before choosing the GW, writes, "The PoE Network provides the highest possible security by using a closed network that ensures reliable continuous connectivity to the NVR/DVR for data storage and security monitoring."
Key Features:
Plug 'n' play. View and Record in widescreen with remote viewing on iOS, Android, tablet, and laptops (PC and Mac compatible)
Single network cable connects each IP camera to the NVR, providing Power over Ethernet ad video signal
Incredible high definition 1920P HD video three times higher than standard 1080P cameras
Exceptional 5 megapixel wide-angle view
Cost: $900
Bechol 1080P HD Wireless Security Surveillance IP Camera System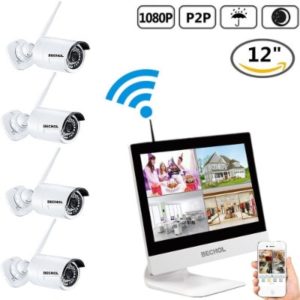 The Bechol 1080P HD Wireless Security Surveillance IP Camera System delivers a clear view of what's taking place on your property, day and night. Plug and play remote viewing affords an excellent range and is easy to configure, access and operate. With 4 cameras providing 24/7 coverage, your security is strong with this surveillance system.
Key Features:
Smart IR night vision with 100 foot reach
Long, stable WiFi range with built in router and push notifications when motion is detected
All-in-One 12″ LCD monitor with built-in video recorder provides indoor/outdoor protection suitable for home, office, retail, hotel, etc.
Cost: $290
Bullet Cameras
Wansview Outdoor Security Camera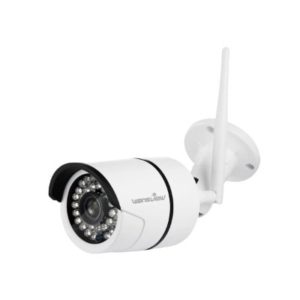 The Wansview Outdoor Security Camera is one of the best bullet cameras for its price point, offering high quality video, remote viewing via a free mobile app, and ONVIF protocol with excellent compatibility with most NVRs and third party software.
Key Features:
Superb night vision with 36 IR LEDs, reaching up to 67 feet
Live streaming on multiple devices: mobile, tablet, and computer (both Mac and PC)
HD clarity with wide-angle view
Cost: $40
The latest HiKam A7 describes itself as "Super Intelligent Human Detection", which may be why the 2018 version is Amazon's Choice for wireless outdoor security cameras. No IT know-how needed; just a simple 3-minute set-up and one-click live streaming.
Key Features:
Advanced human detection: the leading A7 technology filters out false alarms, so you won't receive alerts for swaying branches or an animal sprinting across your yard.
Built-in microphone so you get audio as well as video feedback on recordings.
Receive notifications 24/7 via your preferred device: iOS, Android, tablet, Windows PC, MAC (beta).
Cost: $60
Like its name, the 4SDOT Outdoor Security Camera is a short, sweet deal: easy set-up, excellent customer support, great price, quality pictures. Low power consumption with high stability. It's Amazon's Choice in its price range for Outdoor Wireless Security Cameras.
Key Features:
6 IR LEDs provide superb 720P night vision
Motion detection with real-time push notifications for peace of mind as well as protection
Super simple WiFi enabled set up in three minutes
Supports standard ONVIF Protocol/ Alarm Picture FTP upload
Cost: $40
Amcrest 2K 3MP Wireless Outdoor Security Camera ProHD 1080P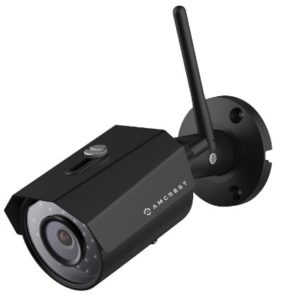 The Amcrest 2K 3MP provides powerful yet simple, smart wireless security for your home or office. With night vision, motion detection, multiple storage options, lifetime tech support, and a very attractive price, Amcrest is right on the money when you're choosing a dependable surveillance system.
Key Features:
HD resolution in 3 Megapixels with an Ambarella chipset stream crisp video clarity. Alexa compatible.
Knockout night vision: 30 IR LEDs let you see up to 98 feet in the dark.
Receive secure video feeds to your mobile, tablet or computer
Store video and alerts in the cloud, on your hard drive FTP server or NAS.
Cost: $90
Foscam Outdoor Security Bullet Camera, FI9800PR 720P HD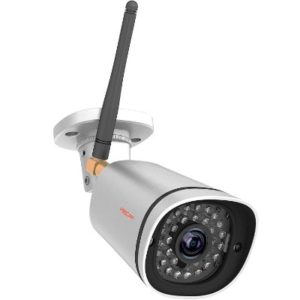 The Foscam FI9800PR is an intelligent security system with a track record for reliability and value, as this smart little bullet camera demonstrates. With rich video, two-way audio, clear day and night footage tailored to your needs, and smart alerts, your business or home will be safe, no matter where life takes you.
Key Features:
Streaming video in 720P detail with wide-angle viewing
Night vision using IR LEDs for crisp detail up to 65 feet away
Quick set-up using your iOS or Android device with free Foscam app (or VMS for computer)
A suite of storage options, including free FTP, NVRs (not included), hard drive, or the cloud (30 days free).
Cost: $60
ZOSI 1000TVL Outdoor Indoor Security Camera
For $15, you could buy a couple of sandwiches or a ZOSI 1000TVL Outdoor Indoor Security Camera. The Zosi might not be as tasty, but it's a far longer-lasting investment for the price. And does it ever work. One Amazon reviewer posted the video of an intruder who broke into their weekend cabin and was beautifully captured on video, enabling police to make a positive ID.
Key Features:
Day and night camera, with auto gain control (AGC) and back light compensation (BLC) for optimal picture quality in any conditions
42 high-intensity IR LEDs permit high performance night vision (up to 120 feet)
One year warranty and lifetime tech support.
Cost: $15
R-Tech CA-IR140-HD 1000TVL Outdoor Bullet Security Camera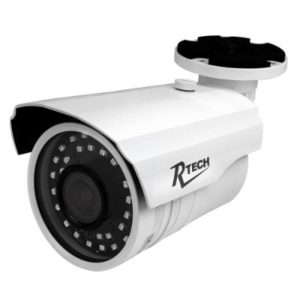 Professional level security without the "professional" price tag. This describes the R-Tech 1000TVL Outdoor Bullet Camera, which provides HD analog video with powerful new SMD infrared LED lighting, reaching an astonishing 180 feet — and with longer lifespan than traditional IR.
Key Features:
Residential or commercial, day or night, varifocal lens spans your environment for suspicious activity
High compatibility camera works on most BNC cable systems
Back Light Compensation for crisp picture quality in any lighting conditions.
Cost: $47